A First-Timer's Guide to How to Wash Hair Extensions
Now that your hair extensions are officially installed, you need to care for them correctly if you want them to last.
If you want your extensions to remain smooth and shiny, you can't wash them in the same way you do your natural hair. With the right care, you can enjoy your extensions for 6 months or longer, especially if they're made with real human hair.
The general rule is that you only really need to wash your hair extensions once there's a product build up – this only applies to clip-in extensions though.
Any other types of extensions can be washed at the same time as your real hair. Ideally, this shouldn't be more than 2 – 3 times a week.
How to Wash Hair Extensions – Essential Steps
Here are the steps you would typically follow when washing your hair extensions following installation or purchase.
Step 1: Start by brushing your hair extensions
Before you get your extensions wet, brush them out. This minimises tangles and knots after washing. Regardless of the type of extensions you have, start brushing from the bottom and work your way up.
A wide-tooth comb or soft bristle brush are the only tools you should be using to brush extensions. If you have clip-in extensions, place the wefts on top of each other to prepare them to be washed.
Step 2: Shampoo your extensions or wefts
If you're washing your wefts in a sink, make sure it's clean. You should only ever wash your hair and extensions with lukewarm water. Once your extensions are wet, use 2 – 3 pumps of a sulfate-free shampoo to wash your hair. Be careful that you don't wash the hair too vigorously, especially near the bonds or clip. After rinsing your hair, apply a sulfate-free conditioner from the middle to the ends of the hair. Be sure to avoid applying conditioner on the roots and near the bonds of the extensions. Leave the conditioner on for at least 5 minutes and a maximum of 10 minutes. Thoroughly rinse the hair before moving onto the next step.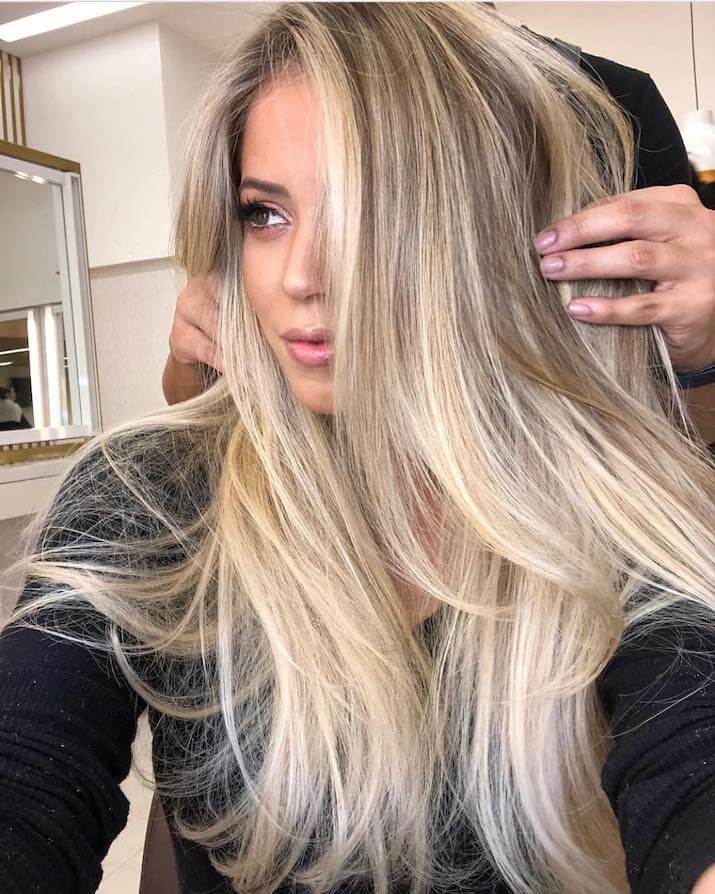 Step 3: Apply a nourishing hair mask
To keep your natural locks and your extensions soft and healthy, it's recommended that you apply a hair mask once or twice a month. If you have a clip-in hair, you can leave the wefts in a shower cap overnight to give the mask time to work. Just be sure to rinse your hair thoroughly after each application to avoid a residue and prevent the extensions from slipping.
Step 4: Air dry your locks
When you're done washing your hair, squeeze out any excess water and let your hair and extensions air dry. If you want to remove excess water faster, purchase a micro-fibre towel. Not only will your hair dry faster but it causes fewer tangles too. Lay your clip-in extensions on a flat surface before patting them dry to avoid pulling the hair out of the clip.
If you can't wait for your hair to air dry, apply a heat protection spray to your hair before blow-drying it. It's highly recommended that you blow-dry your hair on a cool setting and that you avoid brushing your hair until it's almost completely dry. Start drying the roots of your hair and extensions before working your way down to the ends. Blow-drying your hair downwards will help prevent frizz by smoothing the cuticle.
Step 5: Comb your hair
Gently brush your hair once it's dry – don't forget to use the right tools. Again, brush the hair from the top and slowly work your way up. You can now also style your extensions and natural hair using a straightener or curling iron. For those with clip-in extensions, if you won't be applying the hair right away, store them in an appropriate bag or box, or place them on an extensions hanger.
This way, they're ready to wear whenever you want to.
There you have it – all you need to do differently when washing extensions is to be gentler and use the right products. If you're unsure about which products to use, speak to your hairstylist about recommendations. If at any point your hair extensions slip out after washing or styling, make an appointment with your stylist for an adjustment.