5 Of The Best Tips For Efficient Hair Extensions Sun Protection
We are all warned about looking after our skin from the sun, but efficient hair extensions sun protection is important too. Everybody wants to be outdoors having fun in the sunshine, especially during the summer and when it is holiday time. But, if you have hair extensions, you have to understand how the sun can damage them just as much as it damages your skin.
Don't worry; not a lot of people realise what the sun can do to extensions, but we are going to tell you and make sure you know all the best tips for hair extensions sun protection this year.
Use Hair Protection Spray
Just like sun block will stop your skin from burning, hair protection spray is going to protect your hair extensions from damage. Unfortunately, the sun can cause your colour to fade with its UVA rays, as well as the UVB rays making hair dry and lack protein and this can lead to breakages.
This is the last thing that anyone wants since we all know Remy hair extensions are like an investment. It is the same idea as using hair straighteners at a high temperature, exposing your hair to damage. So, the best way to create a barrier between your hair and the sun is by using a hair protection spray when you are going out.
Wear your Hair Up
When you are out in the sun, especially sunbathing, you can get a little sweaty. This can make your hair extensions greasy, as well as affect the attachments if you have tape hair extensions. The best way to avoid this from happening is by having your hair styled up. You can wear a high pony or a braided bun to keep your hair extensions away from your skin and try to stop this from happening.
Choose a Hat
Sometimes hair extensions sun protection means limiting the exposure our extensions have to the sun rays. After all, the sun has a lightening effect on your hair extensions, just like it does on your natural hair.
This is especially true if you have colours such as red and any pastel tones. Plus, it will make them dry and this is when breakages happen. Of course, this does not mean that you have to spend your summer indoors; instead, opt for wearing a hair to limit the amount of sunlight that reaches your hair extensions. This will make sure damage is limited and you can even follow the latest fashion trends!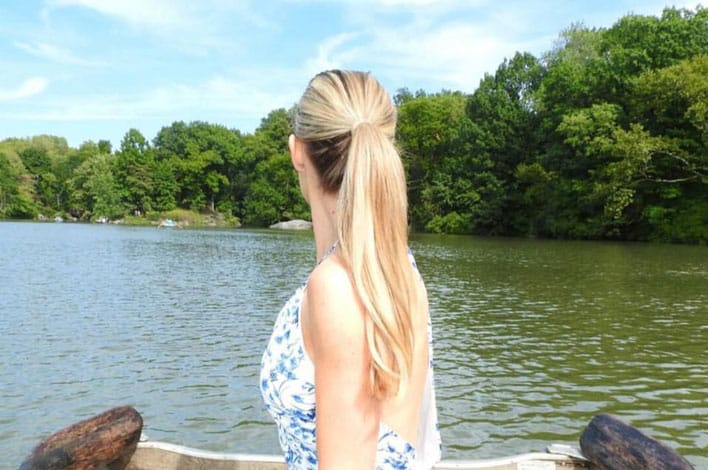 Reach for the Conditioner
If you have been out in the sun, the best way to help your hair recover is by using an intensive conditioner that is specially for hair extensions. This will help to restore the hair and nourish it after being exposed to the sun. Sunlight can make hair extensions dry and this is what causes damage. So, with a conditioner, you can keep your hair extensions moisturised.
Avoid Chlorine
We all know that swimming pools contain chlorine to keep them safe and clean for swimmers. Unfortunately, the same cannot be said about what this chemical can do to your hair extensions.
In fact, chlorine can be very damaging to Remy hair extensions since it is a bleach. This means that it can alter and affect the colour of your extensions, as well as dry them out and get them tangled. This all leads to irreversible damage, which nobody wants.
So, the best thing you can do for your hair extensions is to avoid them getting wet from the swimming pool in the first place. If you do get the ends of your hair wet, the best thing you can is wash them right away and try to rinse away the chlorine.